Empower School
Empower school is catering students with various learning disabilities and is committed to respond to all appropriately to their individual learning needs and do their schooling with pride. We are no ordinary school - we understand and meet the diverse needs of the children.
Learning disabilities are problems that affect the brain's ability to receive, process, analyze or store information. These problems can make it difficult for a child to learn as quickly as someone whoisn't affected by learning disabilities.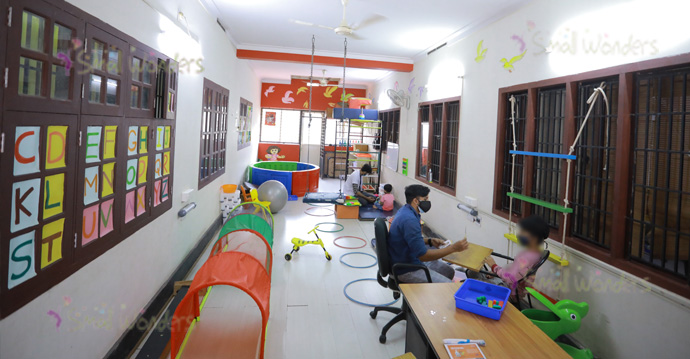 CHARACTERISTICS OF LEARNING DIFFICULTIES
Slow reading rate
Problems with reasoning and abstract concepts
Problems in understanding what is read
Difficultly in recalling arithmetic operations
Difficulty in finding important points or main ideas
Problems in remembering mathematical facts
Confusion of similar words
Confusion or reversal of numbers or math symbols
Difficulty in remembering what is read
Poor organizing and management of time
Frequent spelling errors
Letter reversals
Difficulty in beginning and sticking with study
Poor note-taking and outlining skill
Overly large hand writing
Poor memory for recalling material
Slow writing rate
Inability to complete assignments in time allowed
Difficulty in sentence structure or poor grammar
Difficulty in following directions
Learning disabilities are often identified through a combination of intelligence testing, academic achievement testing, class room performance, social interaction and aptitude.
TYPES OF LEARNING DISABILITIES
1. DYSLEXIA
People with dyslexia often experience other symptoms. These may include:
Failure to fully understand what others are saying
Difficulty in organizing written and spoken language
Delayed ability to speak
Poor self-expression (for example, saying "thing" or "stuff" for words not recalled)
Difficulty in learning new vocabulary, either through reading or hearing
Trouble learning foreign languages
Slowness in learning songs and rhymes
Slow reading as well as giving up on longer reading tasks
Difficulty in understanding questions and following directions
Poor organization and management of time
Poor spelling
Difficulty in recalling numbers in sequence (for example, telephone numbers and addresses)
Difficulty in beginning and sticking with study
Poor note-taking and outlining skill
Overly large hand writing
Trouble distinguishing left from right
2. DYSGRAPHIA
Dysgraphia is characterized by problems with writing. This disorder may cause a child to be tense and awkward when holding a pen or pencil, even to the extent of controlling his or her body. A child with very poor handwriting that he or she does not outgrow may have dysgraphia.
Other signs of this condition may include:
A strong dislike of writing and/or drawing
Problems with grammar
Trouble writing down ideas
A quick loss of energy and interest while writing
Trouble in writing down thoughts in a logical sequence
Saying words out loud while writing
Leaving words unfinished or omitting them when writing sentences
3. DYSCALCULIA
Signs of this disability include problems in understanding basic arithmetic concepts, such as fractions, number lines, and positive and negative numbers.
Other symptoms may include:
Difficulty with math-related word problems
Trouble making change in cash transactions
Messiness in putting math problems on paper
Trouble in recognizing logical information sequences (for example, steps in math problems)
Trouble with understanding the time sequence of events
Difficulty with verbally describing math processes
4. DYSPRAXIA
A person with dyspraxia has problems with motor tasks, such as hand-eye coordination, that can interfere with learning.
Some other symptoms of this condition include:
Problems organizing oneself and one's things
Breaking things
Trouble with tasks that require hand-eye coordination, such as coloring within the lines, assembling puzzles, and cutting precisely
Poor balance
Sensitivity to loud and/or repetitive noises, such as the ticking of a clock
Sensitivity to touch, including irritation over bothersome feeling clothing
If a child's cognitive ability is much higher than his or her academic performance, the student is often diagnosed with a learning disability.
We recommend early screening of all such students and to place all those students who are having difficulty into assessment based early intervention programs. Most of current research is focused on a treatment-oriented diagnostic process know as response to intervention (RTI)
We are proud to have Indian's first and best learning center, EMPOWER SCHOOL, for children with learning disabilities
METHODOLOGY
Empower school has a Methodology to ensure that students with learning disabilities can pursue their studies at various levels.
ADMISSION OPEN TO
PRIMARY SCHOOL CLASS III TO V
MIDDLE SCHOOL CLASS VI to VIII
SECONDARY SCHOOL CLASS IX to X
SENIOR SECONDARY SCHOOL Class XI & XII
MISSION
We aim at preparing students with learning disabilities to qualify at various evaluations & examinations like class X, class XII etc. through the curriculum which is appropriate for their learning needs. We aim to provide them a school environment where they can function to their maximum potential, thus preparing them to take up a career appropriate for them.
VISION
We believe that every child is unique in their talents; there cannot be a common yard stick. We intend to motivate them on their abilities and not to put anybody down on their disability. We envisage school with a focus on their abilities so as to overcome their disabilities. Our vision is to empower every child to achieve their inborn potential.
PHILOSOPHY
An overriding philosophy of our programme is to relate to our students in a manner that acknowledges their worth as human beings, that respects and enhances their dignity and that reflects to society, their positive attitude learning potential and individuality.
PRACTICE
This is achieved by teachers who will use the latest and state-of-the-art practices in the education of students with learning abilities. In achieving this objective, it is recognized that these students display varying and distinctly different skills and areas of needed development that require a comprehensive approach to classroom instruction. Students classified as learning disabled, typically exhibit a wide range of academic and social abilities and needs. And in response, teachers will use a wide variety of teaching and evaluation strategies in our class rooms to suit and meet those needs.
THE LIBERAL CURRICULUM
Empower school follows a liberal curriculum which promotes alternative learning from NIOS, under Ministry of Human Resource Development, Govt. of India. The certification is recognized as eligibility for admission to higher studies by Institutions and Universities.
We offer National Board Examination at two levels: Secondary and Higher Secondary. The Secondary level is equivalent to ICSE, CBSE, SSLC and other National or State Std X Board Examinations. The Higher Secondary level is equivalent to Standard XII Board Examinations.
The curriculum followed by Empower School will benefit students from all walks of life. Students are required to study a minimum of 5 subjects and a maximum of 7 subjects. Students have much flexibility in selecting the areas as there is a wide range of subjects on offer.
Our academic curriculum is supported by various therapeutic measures which are necessary to overcome the difficulties of every individual child. Above all, this is done in a classroom environment which is child-centered and child friendly unlike teacher-centered traditional schools.
SPECIALITIES
The child gets special attention in a child-centric class room.
The disability of students in a particular subject, will not become a stumbling block here. Instead their abilities are identified and nourished.
An array of exciting curricular, co-curricular and extra-curricular activities for holistic development.
Classes are conducted by experienced teachers, qualified professionals, trainers, psychologists, and learning ability specialists.
Focus is on developing learning ability by Specialist Educators.
Personality development and development of communication skills is through counselling and therapy.
Anxiety and Anger Management issues are dealt with amicably.
Social skills and environment awareness are developed.
Soft training in easy math's, language lab etc. are imparted for enhanced learning.
Our clinical set up, supports the school with comprehensive assessment of educational and behavioral need of children and gives therapeutically solutions on individual basis.
Imagine the difference it could make if we focused on the strengths of people with Learning Disabilities instead of their weaknesses?