Yoga Therapy
Yoga is growing therapy in popularity as a complimentary therapy for children with autism and special needs, all over the world. In addition to the benefits that are typically associated with Yoga like improved flexibility, strength and increasing sense of peace, autistic children also experience a reduction of pain, aggression, anxiety, obsessive, behaviors and self-stimulatory activities. And even more, the children are also having greater success in making new friends and regulating emotions.
Some people feel that they are not comfortable with the word "YOGA" Such narrow-minded persons think that it is a cult. But let's make it clear that the yоga that is being practiced here is not a religious practice. The postures and breathing exercises, the relaxation techniques and self-regulation tools are drawn from Yoga's vast well of resources to be implemented for the benefit of children in need. This program is also applicable to all children and ages, as it is just another form of movement involving exercise, breathing and mindfulness.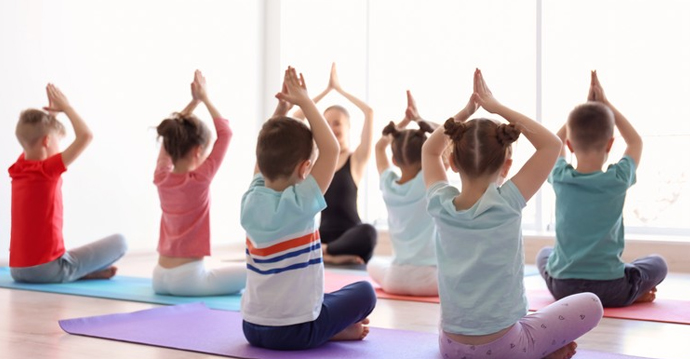 HOW DOES YOGA HELP?
Increased attention.
Sensory integration improvements.
Increased verbal receptivity.
Turn taking.
Body awareness and proximity.
Relaxation.
Improved imitation verbal and physical.
Increased social behaviors.
Eye contact.
WHO WILL BENEFIT?
Autism spectrum disorder (ASD).
Down syndrome.
Cerebral palsy.
Microcephaly.
Motor development disabilities.
Learning disability.
AUTISM FEATURES ADDRESSED THROUGH YOGA THERAPY
Delay in spoken language.
Repetitive mannerism.
Less eye contacts.
Reduced peer relations.
Less Spontaneous/make believe play.
Motor delays (coordination & body awareness).
Deficit in sensory processing.
Lack of attention.
Deficit in imitation skills.
YOGA THERAPIES USED FOR AUTISM CARE TREATMENT
Repetition, Structure, Continuity.
Asanas - body posture.
Pranayam - breathing exercises.
Cleansing practices.
Music and Sound therapy.
Deep relaxation.
EXERCISES PRACTICED FOR YOGA THERAPY
Jumping up and down like a shooting rocket.
Use animals or objects in nature - frog, downward dog, bridge, make ribbet noises.
Mountain pose.
Moon pose.
Triangle pose.
Warrior pose.
Tree pose.
CALMING EXERCISES
Cross legged pose.
Corpse pose.
Crocodile pose.
BREATHING
AAA
UUU
MMM
Blowing exercises
Proper breathing
Deep breathing