Art Therapy
For individuals Autism Spectrum Disorder (ASD), art can be an ideal means of expression. Autism is commonly if mistakenly, associated more with logical thinking than creative expression. But recent research suggests, we might need to rethink our news on creativity and autism. For ASD children, art gives them a degree of control over their learning experience.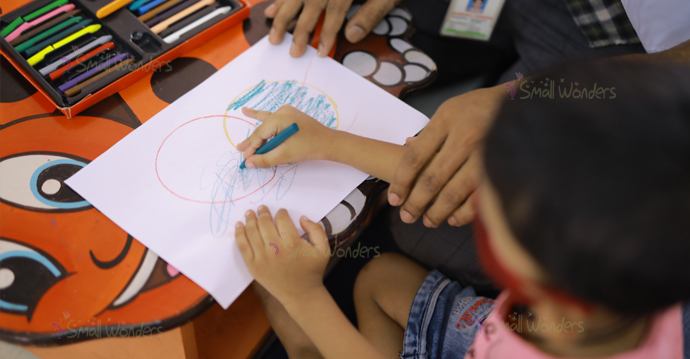 With the right approach, children on the autistic spectrum can benefit from the art activities. On the art room, many children will find a sense of calm, inspiration and sensory fulfillment. Non-verbal autistic children can often communicate through art. For these children, making art can be a key to their inner thought and a way for others to get to know them. Eventually art could help such a child to find their voice.
WHAT IS ART THERAPY?
Art Therapy is a type of psychotherapy, to influence people to think deeper into their thoughts and feelings.
It can be seen as ways in which a person can express themselves using creativity.
Art therapy is used in different ways for many different reasons.
WHAT ARE THE BENEFITS OF ART THERAPY?
There can be many benefits from art therapy for children with autism and learning disabilities.
Different ways of communication through symbols.
Art is normally used through creativity, where it is important to know that there is no wrong.
Can help to explore certain Feelings.
Can provide 'safe way' around certain feelings.
It is enjoyable and fun for the artist to let go.
ART AND PLAY MATERIALS
| MATERIAL | PSYCHOLOGICAL |
| --- | --- |
| Pencils and pens | Control |
| Crayons and markers | Organized |
| Paint, glue, water play | Emotional |
| Play dough | Regression |
| Clay and modelling | Regression or mastery |
| Crafts, collage building | Mastery |
| Dolls, play sets | Imagination |
| Games | Social and problem solving skills. |
TYPE OF ART THERAPIES
There are four different types of art therapies that will be practiced at small wonders.
Painting and Drawing.
Arts and Crafts.
Clay modelling and Sculpting.
Photography.