Remedial/Special Education
Remedial education is a compensatory or preparatory education assigned to assist students in order to achieve expected competencies in core academic skills. It is designed for any type of students, with or without special needs. Whereas special education is the practice of educating students with special needs in a way that addresses their individual differences and needs.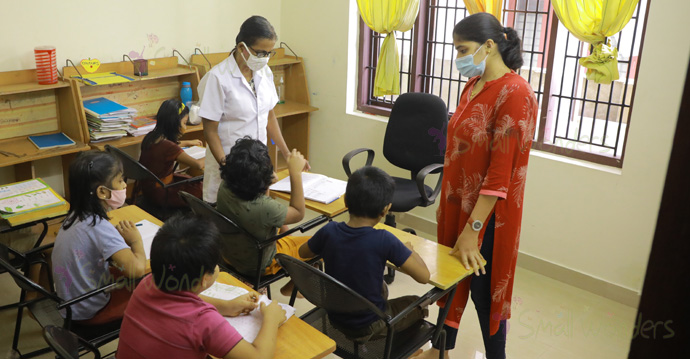 The term special education includes all aspects of education which are applied to exceptional children-physical, intellectual, disadvantaged, and gifted children. Special education means specially designed instruction which meets the special educational and related needs of an exceptional child. It is distinguished from the regular educational programme meant for non- exceptional children by some unusual quality, something uncommon, noteworthy.
It is something special- special materials, special training techniques, special equipment's and special help or special facilities may be required for special categories of children having special needs. For example, visually impaired children may require reading materials in large print or Braille. Hearing impaired children may require hearing aid, auditory training, lip reading etc. Orthopedically handicapped children may require wheel chairs, removal of architectural barriers. Intellectually challenged children may need skill training. Learning disabled child may require special training in needy areas. Related services such as special transportation, medical and psychological assessment, physical and occupational therapy and counseling may be required if special education is to be effective. Special education mainly aims at:
Preventive efforts: Keeping possible problems from becoming a serious handicap.
Remedial programme: Overcoming disability through training or education.
Compensatory efforts: Giving the child new ways to deal with the disability.
These interventions are designed to help individuals with special needs to achieve higher level of personal self-sufficiency and success in school and in their community, which may not be available if the student were only given access to typical class room education.
OBJECTIVES OF SPECIAL EDUCATION
WE HELP CHILDREN
For all round development in their personality.
To make familiar with their abilities and capacities.
Guidance for parents.
Bring educational opportunities at the door step.
Make independence.
Help in adjustment in environment.
Change the attitudes towards them.
Provide appropriate education, personal and vocational guidance.
Utilize contribution for the progress of country.
To be aware about their rights & facilities provide by government.