God's Own Kids
God's Own Kids is India's first Inclusive Pre-school that follows an inclusive model and go beyond this. The God's Own Kids Pre-school, under the guidance of Empower Life Foundation, a non-profit charitable trust, caters to children of abilities. At God's Own Kids, 30 percent of the total enrollments are reserved for children with special needs such as Autism, Down Syndrome, Cerebral Palsy etc.
Generally, most of the children with disabilities, in their preschool age, are only offered the option of receiving special education services in settings separate from their peers without disabilities. Even if getting admitted to normal schools, either they are neglected in a large group or it just doesn't help them as the normal teachers find it difficult to help such children as they are not trained for such situation. However, research says that their early childhood education should be along with their typical peers to the maximum extent possible, but at the same time should take care of their special and specific needs.
God's Own Kids are inclusive preschools with specially trained teachers catering to children from 3 years to 8 years. The preschool accepts children with developmental problems, autism and special needs. The motto of such a school is to ensure equal learning opportunities for children from all walks of life. This is to ensure that every child enjoys the same learning opportunities through our holistic preschool program.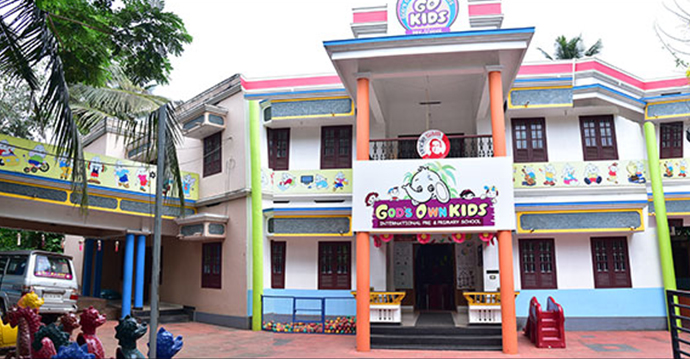 PROGRAMMES
The play group program is for kidsaged 18 to 36 months while the KINDER GARTEN PROGRAM starts at the age of 3 and conducted at 3 levels. Grade 1 and 2 are part of the inclusive pre- school methodology. Here every child enjoys personalized learning according to their needs and interests. Apart from this, independence and self-directed learning is encouraged. The aim is to help the children develop Positive skills and traits thereby providing a strong foundation for life.
METHODOLOGY
For the children with special needs, the school uses a three-pronged approachto education, with educational and therapy Services within the school. It means that teachers, specialists and therapists collaborate to address the specific needs of each student with embedded therapy procedures for such children. The Curriculum is guided by a visual and performing arts - inspired approach, as well as therapy services to help children with special needs to reach their fullpotential. Dance, Drama, music and visual arts are used to teach functional English, mathematics and daily living skills.
As an international preschool with inclusive methodology, we advocate for an inclusive education that provides all children with a right to attend to a quality educational input. Children with additional needs are naturally integrated with their typically developing peers in a supportive environment. 'God's Own Kids' doesn't attempt to provide a Special Education setting, but instead intend to develop a supportive environment where children with additional needs can use and develop the skills they have learned from speech therapy, occupational therapy and other support programs. Small class ratios of 1:6 ensure that every child receives adequate attention.
ADMISSION
Open to children aged 3 to 12, we admit students who have been Mild Intellectual Disability (MID) or Mild Autism spectrum Disorders (ASD). It's specifically for children with an Intellectual Quotient (IQ) between 50 and 70. The learning domains include literacy, numeracy, science, arts as well as physical education and sports. Daily living skills such as dressing, bedding, personal hygiene, performing simple house work, shopping for groceriess etc. are taught. The curriculum also includes character and social training (CSE) inspired by school's value of love, respect, responsibility perseverance and integrity. Students are also provided with suitable therapies to improve their abilities.
Offering only pre and primary level education, Students proceed to EMPOWER SCHOOL for their higher education.
Learn More